Crossing the Rapido: A Tragedy of World War II
Westholme Publishing, 2010
The crossing of the Rapido River in Italy, in the shadow of the monastery atop Monte Cassino, was "one of the most colossal blunders of World War II," leading to failure, outrage, unnecessary death, and a congressional investigation of US Army General Mark Clark. In January 1944, the Texas 36th Division-the T-Patchers-was ordered across the river on a mission they knew could not succeed: to beat the fast-flowing current in the dark of night in the bitter cold.
But first they had to transport their boats and mobile bridges through German minefields and withering artillery and mortar fire just to reach the riverbank. Boats sank; bridges blew up. Men in full field gear were borne away by the water never to be seen again. Men vanished in massive explosions, or lingered in pain for many hours before help arrived.
The few who crossed the Rapido found one of the strongest, most forbidding German defensive lines. The assault was a fiasco. Men died by the hundreds and then the stunned survivors were ordered to renew the attack, this time in daylight.
"We were being sacrificed," a battle-weary sergeant said. "We couldn't win." Of the 4000 men who attempted the crossing, more than half did not return. And to this day the survivors have not forgotten the Rapido or the name of the officer who sent them there.
Duane Schultz recounts this operation from the viewpoints of the survivors, those who made it back to safety to later record their memories. In the Shadow of Monte Cassino: Crossing the Rapido tells the story of the courageous men who fought in this small but significant corner of the Italian campaign, and the folly of those who led them. The soldiers at the Rapido did what their ancestors had done at places like Gettysburg and Fredericksburg, Bataan and Normandy, Korea and Vietnam, and more recently in Iraq and Afghanistan: serve their country and, in the process, help to make and define its history.
Available in hardcover from Westholme Publishing, 2010.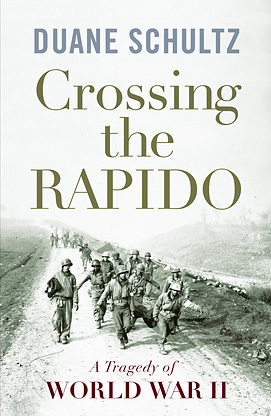 Buy on Amazon
More WWII War Books by Duane Schultz