The Last Battle Station: The Story of the USS Houston
St. Martin's Press, 1985
On the night of February 28, 1942, the heavy cruiser USS Houston vanished off the coast of Java in the Dutch East Indies. The flagship of the Asiatic Fleet, the Houston had been one of the best-known ships in the prewar Navy and President Roosevelt's personal favorite. The Houston's crew, mostly professionals from the old Navy, including many old China hands, were proud and disciplined sailors. They were ready for war but their ship, unfortunately, was not. A victim of budget slashing and disarmament treaties, the Houston carried thin armor plating, no radar, obsolete fire-control equipment, and faulty ammunition. America had not been willing to spend the money to maintain the nation's military preparedness, and the Houston and her crew paid the price.
For 3-and-a-half months after Pearl Harbor, the Houston did battle against overwhelming Japanese air and sea forces, left on her own to fight a delaying action while America belatedly built up its military forces. The crew knew they were expendable, but they fought and bled and died until there seemed to be nothing more to give, right through the night they fought their last, most gallant battle.
The Houston's disappearance remained a mystery for four years. It wasn't until the war's end, when 292 survivors of the 1064-man crew were found in Japanese POW camps, that her fate was finally known. In dramatic hour-by-hour fashion, The Last Battle Station describes the courage, stamina, and morale of the Houston's crew as they confronted not only the Japanese but also their own country's lack of preparedness and the chaos of an inept combined naval command.
Reviews
Written in a clear and exciting manner, Schultz has put together a full explanation of the proud ship and its merciless destruction
Schultz transforms bare, heavy naval history into a chronicle with all the pace, color, character and drama of a fine novel in search of a miniseries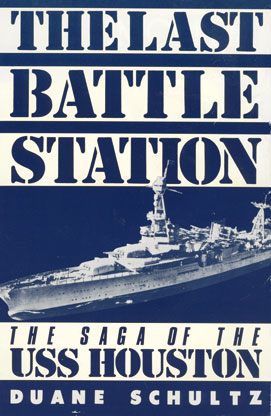 Buy on Amazon
Buy on Abe Books
More WWII War Books by Duane Schultz