Hero of Bataan: The Story of General Jonathan M. Wainwright
St. Martin's Press, 1981
"Remember Bataan! Remember Corregidor!" These words rallied a nation in the first dark days of World War II. When defeat screamed from every headline, Skinny Wainwright led the ragged troops of the US Army in the Philippines into battle again and again, disrupting Japan's timetable for the conquest of the Pacific. With dwindling supplies, little food, no air force or navy and outmoded weapons from World War I, Wainwright fought a modern, well-equipped army to a standstill for almost five months. His actions were a triumph in the face of overwhelming odds, as fine as any military action in history.
General Wainwright was the man MacArthur left behind when he was ordered to leave the hopelessly surrounded garrison in the Philippines. Wainwright also became the highest-ranking American POW, enduring with his men the scanty rations, harassment, and beatings until the end of the war. His return, as a haggard, frail, yet still-proud soldier, brought him a fourth star, the Medal of Honor, and even the demand that he seek the US presidency.
Hero of Bataan: The Story of General Jonathan M. Wainwright is a superb history of the struggle for Bataan and Corregidor. Schultz has combed through military files, captured documents, and the personal letters and diaries of scores of army personnel who served in the Philippines. He also interviewed dozens of men and women who spanned Wainwright's career from his West Point class of 1906 to his death in 1953 to tell this story of a genuine, old-fashioned American hero.
Reviews
It was Wainwright's destiny to preside at one of the most searing episodes in American military history. In this fast-moving narrative, Schultz evokes the tragedy and glory in poignant detail. The story is an inspiring and instructive one of which all Americans can be justly proud
Eminently readable, soundly researched, and sympathetic yet honest in viewpoint, this work should stand as the standard biography of Wainwright for a long time
A moving and accurate account revealing many of the mysteries surrounding Wainwright. Good history, good drama
The standard work on Wainwright for a long time to come
A vivid picture of the last battles on Bataan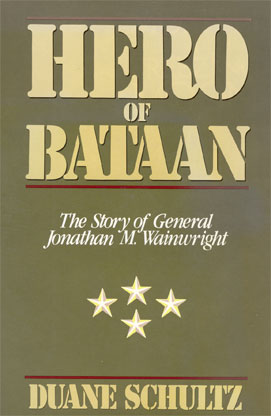 Buy on Amazon
Buy on Abe Books
More WWII War Books by Duane Schultz